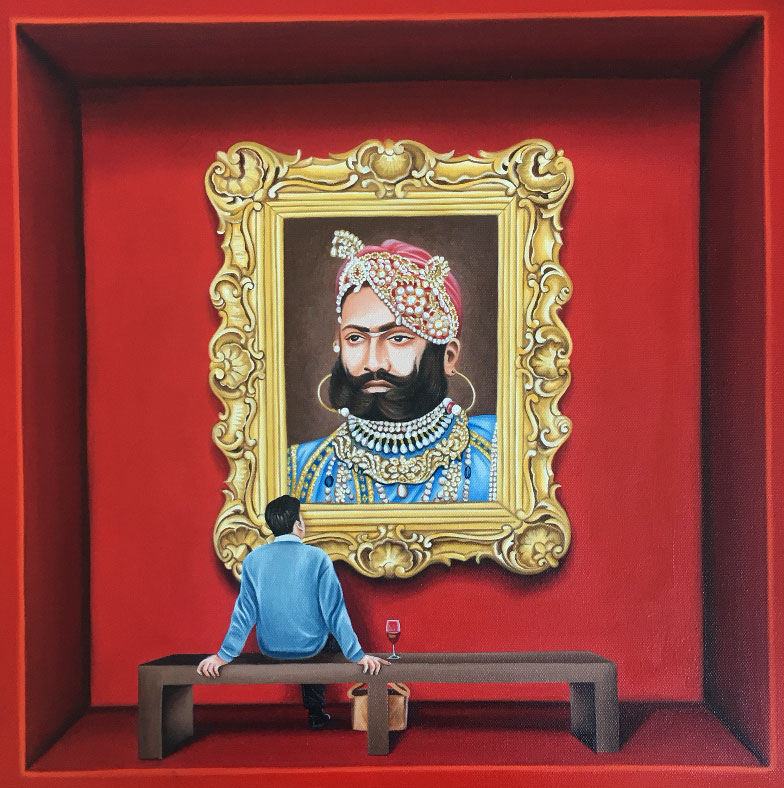 Vijay Sharma, Eternal VI, 2016
Georgina is available to present talks on a wide range of aspects of South Asian art and its markets to educational institutions, arts groups, private and online events, and gives media interviews.
Customised small group or solo tours of public and private collections are also available upon request.
Interested in having Georgina speak at your next event?
+
Previous talks given at
The Arts Society
Asian Art In London
Oriental Club, London
Tate Modern Guides
London And More Arts Group
Moscow Museum Of Modern Art
Christie's Education, New York
Free University Of Brussels
The Arts Society Belgium
UK Universities
Lecture Series On Luxury Cruise Ships For Voyages Of Discovery, Seabourn, Holland America, Fred Olsen, Viking And Cunard Lines
+
Media Interviews include
ITV London
Sky Arts
LBC London Radio

BBC Radio 5 Live
These titles are based on Georgina's South Asian art and collecting research, complemented by a selection of other themes arising out of recent talk commissions.
They are intended for an interested general audience. For lectures for university, academic or special interest groups, please contact Georgina for further information.
+
Available in person or online as Zoom webinars
Click + to read more information about each topic
Hidden item
this item is hidden to allow accordian items to begin closed.
The Story Of Indian Modern Art
At the birth of Indian Independence in 1947, a group of talented and determined artists set out to create a new art for a new country.  They drew on ancient artistic traditions and the influences of Euro-American Modernism but most importantly they also embraced a radical view of how Indian art could speak to its audience.
This movement, known as the Bombay Progressive Artists' Group, created an art very much for and of its time – acting as witness to a country in turmoil and relating the fascinating story of transition and growth of the new India. This is an exploration of how art in the subcontinent threw off the yoke of colonial influence to create modern masterpieces and a thriving global business.
The Story Of Indian Contemporary Art
The past few decades have proved to be seminal for the momentum of contemporary art in India. The rapid growth in the country's domestic economy and global outreach triggered significant political, social, cultural and experiential change which has been reflected in the work of talented artists, their fertile imaginations setting about the task of reflecting and explaining the shifting world about them. 
These artists describe multiple versions of contemporary life; their figurative themes range from hectic street scene to the newest shopping mall, from vibrant Hindu celebration to elegant urban setting.  Abstract and expressionistic work signals ideologies from reassuring ancient myth to cynical present and everything in between. Whether the chosen media is oil paint, steel, concrete, textile or everyday city debris, the work of this new generation of artists fiercely demands our attention and challenges us to see India through their eyes, and their experience.
Rituals And Riches — The History Of The South Indian Temple
Southern India offers up a treasure trove of visual history through its impressive ancient temples, built by a succession of mighty dynasties, From the Pallavas to the Cholas, these beautifully decorated temples, covered with vivid and compelling sculpture, once acted as the religious, social and administrative centres of thriving communities. The temples employed casts of thousands — priests, sculptors, engravers, carpenters, sacred parasol bearers, dancing girls, musicians, lamplighters, administrators, accountants and many more. This lecture explores the fascinating temple tradition of Southern India — a journey of 2,000 years.
The Art Of Hinduism — Religion Of 33 Million Gods
An introduction to the beliefs and philosophy of Hinduism, the oldest religion in the world, through its wonderful art and sculpture.  Much of what we know about Hinduism comes not only from the sacred ancient texts but also the impressive sculptures and carvings of Hindu temples over a period of more than 1,500 years.
From the early beginnings of the religion, temples provided sites for worship, celebration and reflection.  These temple structures are populated with a myriad of gods and goddesses telling ancient stories.  The Hindu trinity of Brahma the Creator, Vishnu the Preserver, and Shiva the destroyer and their many avatars are central to Hindu belief and are portrayed through exquisitely carved statues and carvings which are examined in detail in this talk.
Sites Of The Gods — The Architecture Of The Bay Of Bengal
Mahabalipuram, on the Bay of Bengal, is a feast for the senses, overflowing with wonderful art, architecture and sculpture and is one of India's many UNESCO World Heritage Sites. The home of the famous 'shore temples', this area is dominated by the celebrated rock carved temples – sacred sites and places of worship hewn from solid, unforgiving granite in the 7th and 8th centuries.  This talk offers a fascinating exploration of the creation and purpose of these beautiful and unusual edifices that live on to this day.
Land Of The Monkey God — The Art And Architecture Of Sri Lanka
Shrines, stupas, cave temples, colonial grandeur and modernist architecture – a look at the history of this beautiful island through its intriguing art and culture.  For much of Sri Lanka's past Buddhist and Hindu have lived alongside each other peaceably and much of its culture is evidence of this spirit of tolerance and generosity. The fascinating story of Sri Lankan art is explored alongside the original minds, talents and spirits that created this unique visual world.
Art of the Mughal World
Mughal rule in India during the 16
th 
to 18
th
 centuries marked a unique flowering of art and architecture, unrivalled in its luxury and opulence. These mighty Emperors were dedicated patrons of skilled artists, sculptors, jewellers, engravers, architects, poets and calligraphers, whose creativity produced breathtakingly beautiful artworks and monuments.  From Mughal miniatures with their luminous, jewel-like colours to the exquisite design and ornamentation of imperial palaces, tombs and gardens, this talk considers the fascinating fusion of Persian, European, and indigenous Indian influences that produced this glorious work.
Importantly, Mughal art and architecture served another purpose; these powerful rulers were astute politicians and the magnificence of the Mughal court served as a highly successful form of propaganda, which provides a further fascinating topic for exploration.
Koh-i-Noor — The Most Famous Diamond In The World
From an Indian riverbed thousands of years ago to the Tower of London – the fascinating tale of the 'Mountain of Light'.  The story of this celebrated diamond is not only intriguing but also full of surprises; it has been the subject of desire, jealousy, intrigue, passion and political chicanery.  We follow the journey of this fabulous diamond from the depths of early Indian history through the bloody era of the Mughals to the power and politics of the British Empire, illustrated by extraordinary artists who were committed to describing the events and emotions of their time.
A Monument To Love — The Real History Of The Taj Mahal
The Taj Mahal is the most famous landmark in India, celebrated worldwide as the eternal monument to love. Built as a mausoleum in the seventeenth century by 2,000 stone carvers, masons and artists and set in lush gardens on the banks of Agra's Jamuna River, it is utterly breathtaking in its splendour. The perfect marriage of design, craftsmanship and symmetry.
As well as being an enduring testament of a husband's love for his wife however, it was also intended as a resounding declaration of the status, power and authority of its creator, Emperor Shah Jahan, indeed, of the entire Mughal dynasty.
Based on the most current research, this talk dispenses with the many legends that persist in the public imagination and in separating fact from fiction, tells the real history of this magnificent edifice.
AUSTRALIA
+ OTHER SUBJECTS
Click + to read more information about each topic
Hidden item
this item is hidden to allow accordian items to begin closed.
Describing A New Country — Australian Landscape Art
In the mid 19th century settlers arrived on the new continent of Australia and were astonished by the exotic landscape, climate and peoples they found there.  As part of the process of acclimatising to their new home, talented artists set about depicting this new land, leaving us with a fascinating legacy of art works – engaging and intriguing images of rugged landscapes, big skies, windswept coastlines, the drama of bushfires, and finally of new towns being built and homesteads created. We focus on the stories of settlement by investigating the fascinating art of these innovative times.
The Australian Impressionists — A New Art For A New Country
The story of the Heidelberg School — the first true Australian art form post-colonisation.  In the late 1800s talented artists from Britain arriving in the new country sought a way to describe the exotic and alien landscape around them and seized on the new ideas and ambitions of French Impressionism for their task.  However their skill and imagination soon progressed this project far beyond their chosen model, deeply influenced by the remarkable light and space of Australia. The painters of Heidelberg, a rural area near Melbourne, developed an artistic form that was more than simply a version of European art – they created a distinctive Australian practice that is admired to this day.
Australian Indigenous Art — From 50,000 Years Ago To The Present Day
The Australian indigenous peoples possess the oldest continuous culture on our planet. From the extraordinary early rock and cave art to the modern oil painting, these artists are great storytellers, passing their mystic culture and sense of the sacred nature of the landscape down the generations.  This talk investigates the early beginnings of this fascinating art and traces its development to the modern day where it is exhibited in international galleries and sells for high prices on the world art market.
The Elegance Of The Ocean Liner
The glitz and glamour of the ocean liner, from its 1920s heyday to modern times.  Early ship design and décor was often utilised to resemble a British stately home or an Italian palazzo and intended to imbue passengers with a sense of high comfort, status and luxury. Designers embraced different artistic styles, from neoclassical and baroque to art nouveau and art deco, to create ever more impressive and beautiful interiors.
This talk takes in exquisite gilded ballrooms, grand balustraded staircases and sumptuous panelled smoking rooms whilst examining the fascinating social and design history of these 'floating palaces'.
The 'isms' — How To Understand Modern Art
How well do you know your Surrealism or Cubism?  Abstract Expressionism or Pop Art?  This is a user-friendly reminder of some of the key movements of modern art and the intriguing historical, social and artistic triggers that brought them into being.  These art worlds were populated by some larger-than-life personalities whom this talk will investigate, illustrated throughout with iconic works of the 20th century.
You Don't Have To Be An Art Expert (Or Rich) To Be An Art Collector
Even if you only have a few pieces of art on your walls at home, you are already an art collector.  You have gone through the exact same process as any collector:  looking – thinking – selecting – exhibiting.  In effect your home is your gallery.
The subject of this talk is collecting art, both old and new, with the intention of reminding you of the pleasure to be had in surrounding yourself with objects you love and that communicate significant memories or sensations for you every day. We will consider the different motivations and types of collecting, including valuable tips regarding research, buying, care and conservation, selling and even investment. 
Looking at, talking about, and acquiring art is a fascinating adventure that is definitely enhanced by being well-informed!  
+
For a study day, attendees are invited to bring in actual, or photos of, works of art for discussion.
The True Story Behind The World's Biggest Art Heist
On March 18 1990, the 'impossible' happened — thirteen works of art, valued at a total of $500 million, were stolen from the great Isabella Stewart Gardner Museum in Boston.  Museum officials, police and security experts were completely baffled as to how this had happened.  Tragically, these great masterpieces have never been recovered; a devastating loss to the museum and its public.  To this day, the spaces where these art works hung, by Vermeer, Rembrandt, Degas and Manet, are marked by huge empty frames – a shocking reminder of this dramatic event.
This talk relates the story of the robbery and the fascinating police investigation that ensued, resulting in knowledge of how, why and by whom the theft was committed but leaving the crime officially 'unsolved'.
Frauds And Fakes — Paintings That Fooled The Art World
How do you tell a fake from the real thing? With great difficulty! This talk relates fascinating stories from behind the scenes of the great art museums of the world.  It delves into the complex histories and consummate skills of some of the infamous forgers of the art world who have cleverly and successfully fooled the experts.
Despite cutting-edge modern technology and the expertise of art historians and connoisseurs, fake art works continue to circulate on the art market and even, occasionally, make their way into museum collections. The recent troubling case of the $450 million Da Vinci masterpiece 'Salvator Mundi', is a case in point – dividing the experts on critical issues of authentication and restoration, revealing an art world that is ever in fear of the 'perfect' forgery.
+
Study days are offered by selecting any two or three lectures that are based on similar subjects or the same country or region. 
Georgina also offers small group or solo tours of public and private collections by special arrangement.
Untitled, Rajnish Kaur, 2016
The Glory of the Hindu Temple
Video commission for The Arts Society
'Around the World in 80 Days'
July 2021
"Oh how wonderful…thank you so much for this insight into these extraordinary temples. A superb talk."  
Anne Deuchar
"Some talks just hit the spot! Excellent."
John Wickson
"A huge area for discovery and beautifully presented so that the essence of the magnitude of the temples was revealed in the smallest of details. Thank you."  
Helen Jakobi
"Ms. Bexon's engaging speaking style and passionate understanding of subject matter made her lecture series both educational and entertaining. Her expertise and polished presentations gave me a new appreciation of cultures and their art forms. I walked away from each session with my interest piqued in learning more."
Kristin Owens, author and passenger, Queen Mary 2, Cunard Line Australia Cruise, Feb 2020. 
"Georgina captivated the audience for an hour as she unravelled the story of the Koh-I-Noor. Her Zoom talk was very logical, beautifully illustrated, and delivered with perfect clarity."
Ian Swankie, Founder, London Art and More, Oct 2020 
"A fascinating presentation and the slides were beautiful.  Georgina's passion for her subject really shines through."
Sophie Lang, Head of Marketing and Communications, Oriental Club, July 2020 (Sri Lankan Art)
"Georgina is a very clear speaker with superb delivery. The logic that carries you from slide to slide ensures a fascinating lecture."
David Triggs, Chairman, Stratford-upon-Avon Arts Society, Feb 2021  (Koh-I-Noor)
"Thank you so much Georgina for such an impassioned, informative and wonderful presentation. Just loved it."
Polly Kettyle, Tate Guides, March 21 (Australian Indigenous Art)
"What a tour de force. Georgina's enthusiasm, passion and knowledge was absolutely apparent and the hour just flew by."
Liz Williams, Programme Secretary, Romsey Arts Society: UK Arts Society Lunchtime Lecture Live (YouTube:1800 live views), Oct 2020 (Indian Modernism)
"Our members thoroughly enjoyed Georgina's lecture on Aboriginal Art. On our feedback system they rated it as excellent/outstanding and particularly appreciated the geographical, historical and social setting provided at the start. Georgina's lecture style was warm, relaxed and engaging with excellent illustrations."
Pauline Anstead, Chairman, Harborough Arts Society, Feb 2021
Fusion, Vijay Pichumani, India Art Fair, 2020